The Spot hosts some of the biggest, most creative, and most entertaining climbing competitions and parties in the world! Our most popular event, Psychedelia, is a black light Halloween-themed event that has been imitated around the world, but never replicated. We also host an annual USAC- sanctioned competition, member parties, and summer events, complete with delicious food, beer, and great raffle prizes!
2019: August 28 in Boulder
Welcome Back Bash is the perfect way to celebrate the sending season right around the corner. With a giant vendor village with great gear deals and shoe demos from the absolute best brands, you're sure to be ready for that perfect sending weather!
Denver Grand Opening Weekend
August 30-31
We're dedicating two days to free climbing for the community and evening parties for our members. Don't miss it!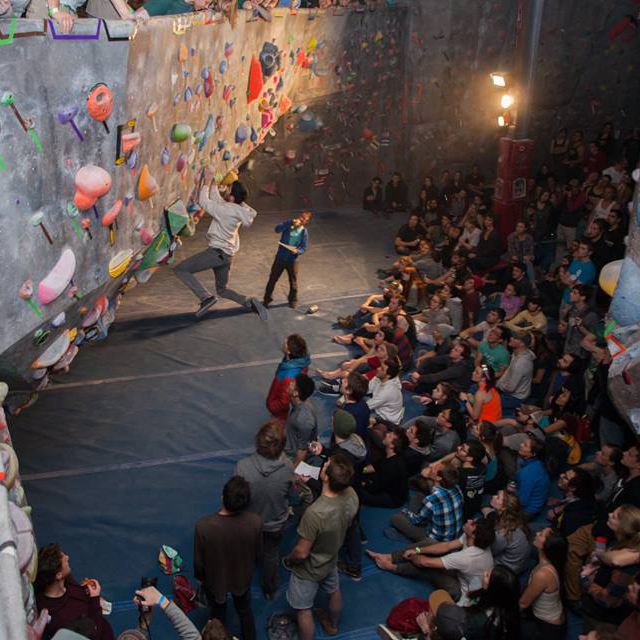 The Spot Classic / USAC Local
2019: September 14 in Boulder
The Spot's annual bouldering competition with finals as well as our USA Climbing Locally-sanctioned regional event. Split sessions for young kids, older kids, and adults.
2019: October 26 in Boulder
You don't want to miss this epic out-of-this-world blacklight climbing event! Coordinate costumes with your friends and come enjoy the incredible themed art, all new unique climbing problems, and plenty more!
Come experience The Spot transformed into the ultimate slackline park! Enjoy slacklines of all different types, space nets, hammocks, slackline workshops from the pros, and much more!